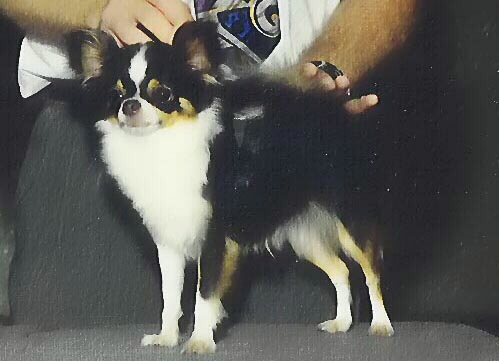 CH YESHUA HIBBARD TINKER BELL is our first pup to become a champion. Thank you Dorothy Hibbard for having her shown.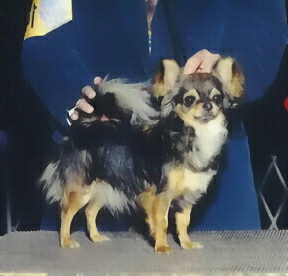 YESHUA HIBBARD DUTCHESS is presently being show. She has points but I am not sure how many.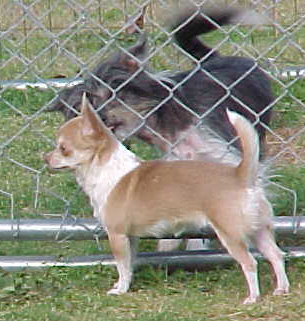 This is our pet BREEZY. She is strickly and only our pet.

OUR GOALS
I have been raising Chihuahuas for over 14 years. To produce show quality pups and sell them at reasonables prices was my goal. This year I have beable to meet that goal. I want to thank all my friends and all the breeders that have helped make this dream come true. And I especially want to thank God for all His blessing.

We live on 18 1/2 acres in Northeast Georgia. We have a small outside kennel but all our females get to come and stay in the house to whelp and nurse their pups. Some of our girls are in the house permnamently. The pups stay in the house until they are sold or housebroke if we are keeping them.

I do whatever it takes to try to save all our pups. Sometimes it is weeks of bottle feeding with little or no sleep. All our "babies" are socialized-played with, and loved. We take our responsibilities very seriously. Though we are honored when a pup is shown our main concern is a loving family life for our pups.

Occassionally we have older dogs that we try to place in loving homes. Some are trained. All are crate or housebroke. It makes a lot of extra work for me but it is a lot easier to find a home for a female that is housebroke. It is well worth the time invested.

I hope you will enjoy looking at the pictures on our site. Any questions or inquiries are welcome. If you are in the area please stop in.